It has been a bit quiet around here again. Lots of issues with an elderly relative being in hospital then going into care has been taking up time, and I've also been working on something not entirely wargamerly too.
As I may have mentioned before I'm a member of the Northamptonshire Battlefields Society. We have a public meeting most months with a guest speaker on a historical subject related to military history, the history of Northamptonshire and its surrounds, or medieval history in general. As I used to do a bit of lecturing/training at work and have a degree in history I mentioned to the man who arranges our talks that I'd be up for doing a session.
So for reasons too arcane to go into now I ended up doing a joint presentation with Phil on the evidence for the Battle of Edgcote in May, and I'm in the programme to talk about William Boteler in July.
July's the slot speakers don't often want to do as it falls in the academic holidays - we don't meet in August for similar reasons - so a member of the Society is the easy way to fill the gap. Last year we had our Secretary Peter, talk about archery, and very good he was too.
So, William Boteler. Or Butler. Who's he then?
Boteler is a man who has virtually disappeared from history, but for a few short years was an important man in Northamptonshire and the surrounding area under the Protectorate, being appointed Major-General for the region. His reputation did not survive the Restoration, when he was described as a "proud, insolent, domineering Turkish Bashaw". Tough talking about a dead man unable to defend himself.
I first came across Boteler when I was at University (so that's nearly 40 years ago) and there were a couple of things that interested me about him. At the time I didn't live in Northamptonshire and had no intention of doing so, so I didn't follow up that much. Well, not at all, really. I did think at the time that there was a proper book to be written about the Major-Generals period of history, and I'd have pitched that for my PhD but instead went off and got a proper job, got married, had a family etc, etc.
Fast forward a few years, - to 2005, in fact, according to my Amazon order history - and the book I would have written was actually written, and a jolly good book it is too. This re-introduced me to William Boteler and the world of the Major-Generals, and I reflected, not for the first time, that it is good to be able to read a proper history book from cover to cover without being under pressure to mine it for an essay or seminar paper. There's enough stuff on him in this book to make you want to know more.
Although of course I never followed up and found out anymore, because sometimes you just don't.
When I came to needing a subject for a talk, however, I reckoned there was enough to fill 40 minutes without any serious digging. I was able to supplement Durston with my notes from way back when, and, joy of joy, photocopies of pages from the Thurloe State Papers. (John Thurloe was Cromwell's secretary of state, and his collection of letters is a terrific resource, - and all available at British History On Line, too, now). So I had all of that to read too.
And then it was off to the local history section of the library to look at what they've got, and to cross check assertions made in other, more general works. And then it all sort of started to get more interesting. The only decent length biographical essay on Boteler* describes him as "the most execrated" of the Major Generals. His entry in the most recent Dictionary of National Biography (he didn't make the first edition) written by no other than Ivan Roots describes him as "an unappealing personality". What had he done to make himself so unpopular?
It was in the cross checking that it started to get interesting. I'm not, nor ever have been, a professional historian, but I was unable to verify all of the accusations against him, and we seemed to have a case not of history repeating itself but historians repeating one another. It didn't seem to occur to anyone that you didn't make yourself popular in Restoration England by suggesting that Cromwell's henchmen might have been nice guys, actually.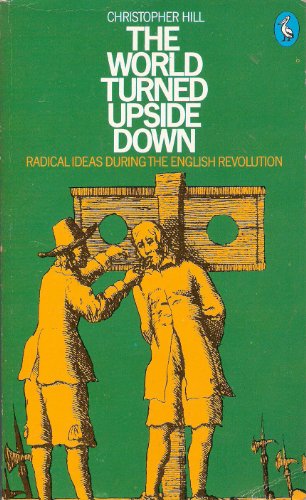 I was also lucky enough to study not only the Protectorate period, but also Religion and Belief in the 16th and 17th century, which I recall being tremendous fun. This lead me to read Christopher Hill's wonderful "The World Turned Upside Down" which is full of vibrant characters and overflowing with well chosen quotations from contemporary documents and leaflets. It is a terrific evocation of a time when ideas were flowing and being debated by all levels in Society. In the case of Boteler I went back to it to remind myself what the early sectaries, including Quakers, were like and what they believed in, as Boteler had several run-ins with radical groups. Having read that chapter I had to stay with the book and read a few more.
Finally in terms of background I turned to S R Gardiner's epic eight volume history of The Great Civil War and the Protectorate. Although it is a hundred plus years old it is still valuable as the chronology is correct and, well, I enjoy the prose. The volumes on the Commonwealth and Protectorate were regular companions during my final year at University. A few years ago, - it may be more than 10 - I found a pristine set of all 8 of them in a second hand book shop, marked down at £2 each, so I bought them, and they have sat proudly on my study book shelf ever since.
So, not all my time at University wasted then, as I at least know where to look to verify information on a completely obscure 17th century individual no one really cares about.
Now, enough of this displacement activity and back to working on my talk.
And if any of you are around Northampton on the 26th July it would be great to see you at the Northampton Marriott Hotel. We start at 7:30pm. It's £5 on the door, or free to NBS members.
*Written by Paul Hardacre, and American History Professor in the 1940s, and published in the Huntington Library Quarterly. I misread that as "Huntingdon" and had foolishly assumed it was written by some local history buff out in the Fens, not an eminent US History Professor writing for a prestigious academic library.