Last week saw the culmination of about two years work by the Northamptonshire Battlefields Society to mark the 550th anniversary of the battle on the 24th July 1469. Earlier in the year we published a book, and a walk leaflet, and Phil finished work on our battlefield model, all of which, I think, I have written about here.
For this last week we had two major events planned, the Anniversary Walk on the evening of the 24th and the Conference on the 27th. Phil and I, with various other people have done a couple of recce walks to make sure we can get the whole thing in before the sun sets. It looked tight, but we thought we could do it. I then put the finishing touches to the printouts in my presentation book to take round with us, with pictures of Edward IV, situation maps etc etc, - I'm sure you know the sort of thing if you've ever done a guided battlefield walk.
We had a 7pm start in Chipping Warden, and our aim was to get there for 6:30pm and set up a portable Society stand and do a quick pre-walk briefing. Phil stopped off at 5:30pm, and off we went into Northampton's rush hour traffic. Which actually wasn't that bad.
Then 20 minutes later, this happened. Mine is the white car.
Photo (c) Phil Steele
Yes. Rear-ended whilst stationary at traffic lights on the exit to a roundabout. There was nothing for it. We got another Society committee member to come and pick Phil up and get him to Edgcote, whilst I stayed with my car and waited for recovery. So Phil lead the walk on his own (thanks, Phil) and I missed it completely. Still, no need to worry, it's not like it was a special event and we'd been planning it for months. Hang on...
Which then brings us to the Conference on Saturday, held at Abington Park Museum, which is a lovely, historic, venue.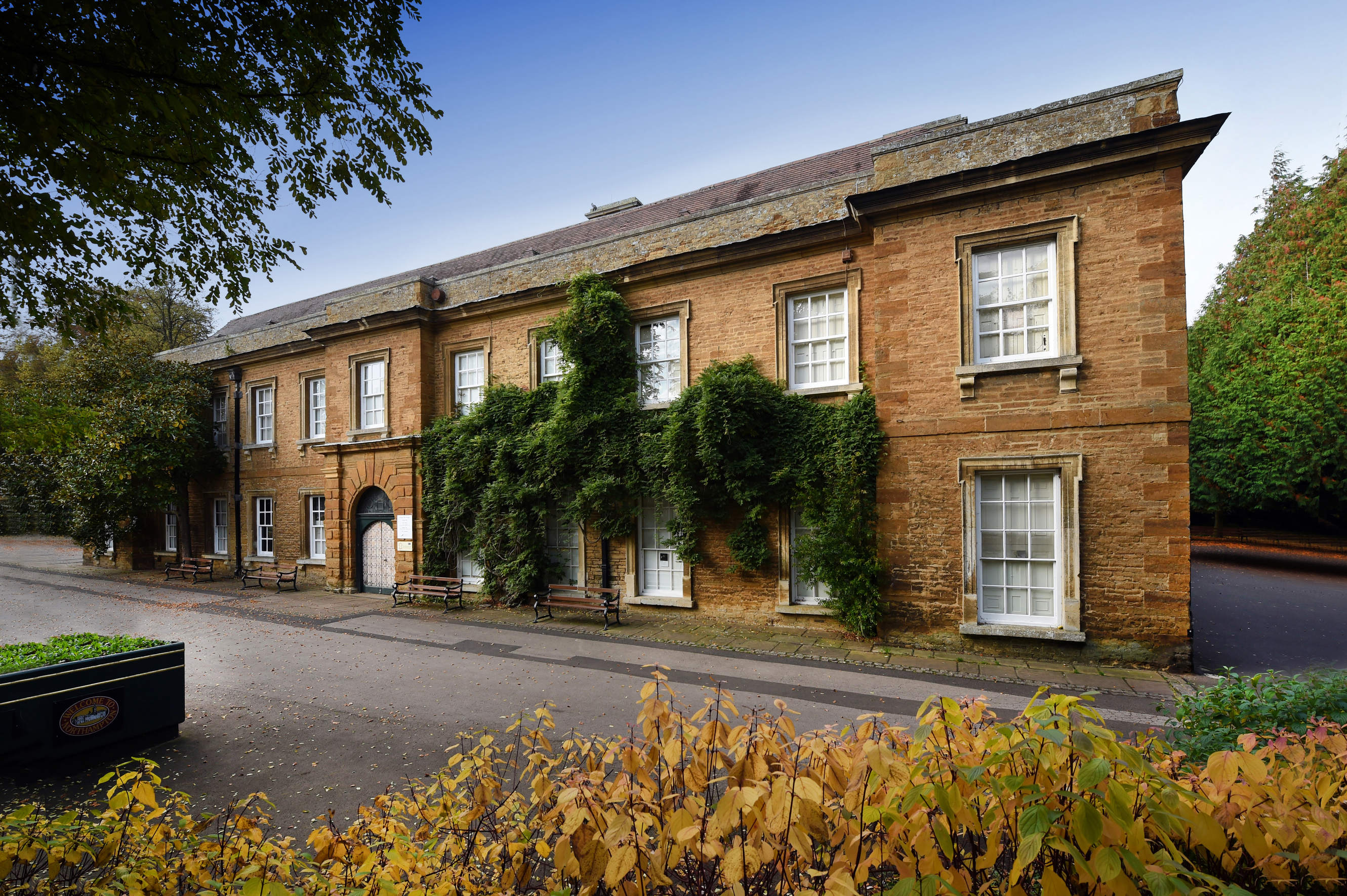 Abington Park Museum. Photo (c) Northamptonshire Surprise
The fine weather was gone, and it started to rain as we unloaded our various stand items into the venue (I had a hire car by now, so at least I was mobile). We were just about set up as people started to arrive, and the AV worked, which is always a bonus. After people registered, they were treated to tewa & coffee in the Great Hall, before moving in to the conference room.
The Great Hall at the Museum. Photo (c) Steve Williams
I can't do the full event justice in the space I have hear, but it all went very well and the feedback has been superb.
That slide, with that date.
We started the day with Harvey Watson of the Battlefields Trust. Harvey's job was to set the scene with some background and what we might call the "traditional" interpretation of the battle. Harvey has been giving this talk for over 10 years now, and did most of the original work in bringing the battle to general attention. He designed the current sign board and wrote the words. He did not disappoint us, and his opening slide contained the first thing we need to get changed, - the erroneous view that the battle was fought on the 26th, not the 24th.
The origin of all the trouble
I'm being a bit unfair. Harvey did an excellent job on the background and gave us a framework to follow for the rest of the day. It was a shame he had to leave at the lunch break, but it was his birthday, so we were lucky to have him there.
After Harvey we had the NBS Chairman, Mike Ingram, who gave us lots of background into the Woodville/Warwick "feud" with a modified version of one of his favourite topics, - the over-mighty subjects of late medieval England.
Wydeville or Woodville, - i'ts all the same
He's done a lot of work since I last heard him talk about this, and he has more information than it is safe for one person to have and try to impart in 50 minutes without anyone's head exploding. I was quite breathless by the time he had done.
That wedding
What I did not fully appreciate was that the much maligned upstart Wydvilles were not the nobodies that Warwick and the Neville's claimed them to be. They may not have been of Royal Blood or cousins to the King, but they were a prominent and significant family and whilst "newer" than the Neville's shouldn't have been regarded as parvenus.
We then took a break for lunch (very good, what I saw of it, as I spent most of the lunch break processing payments and signing books, - the price of fame) before re-convening for the day's mystery package. A Welsh poetry professor from Aberystwyth University's Centre for Advance Welsh and Celtic Studies.
I came across Professor Ann Parry Owen almost by chance when researching the Edgcote book, and through e-mail exchanges she agreed to translate some poems for me. I then pushed my luck and asked her to speak at the Conference, which she agreed to do.
She delivered above and beyond the call of duty, having given a paper in Bangor in North Wales the day before, then driven to Northampton in the evening to talk to us. She is passionate about her subject and couldn't miss a chance to tell the English all about it.
Professor Ann Parry Owen
And I made her stand in front of a slide with a typo in it. Sorry Ann. I can spell "Anniversary". Honest.
Anyhow she was the hit of the Conference. Bloody brilliant it was. She needs to be given a bigger platform and should be a regular on the Battlefield Conference circuit.
Apparently there are three battles written about by the professional Welsh poets of the late 15th century, - Mortimer's Cross, Edgcote & Banbury. In all cases any statements of fact in the poems must be taken as just that, - they are not poetical flights of fantasy but a truthful recording of who was who and what happened. Ann explained why this was, an argument I won't repeat here, but it makes them unimpeachable as sources if and when we choose to use them. These is a lot more mileage to be made out of this.
Phil's opening slide.
Phil Steel then gave us his speciality, which is understanding what contemporary 15th century art tells us about warfare, or, as he put it "looking for the pictorial clues". Another subject that deserves a much higher profile (book him now if you run medieval or military history conferences or evening talks).
A surprising summary?
I think this was controversial for some in the audience, as Phil pointed out that a lot of what we take to be true isn't supported by all the evidence. You might think, "Well it's art not real life" and therefore can safely be ignored if it doesn't fit in with your preconceptions but, as with the Welsh poetry, Phil made convincing arguments as to why art commissioned by men who had military experience (ie pretty much all of the ruling class) should be taken seriously.
Photo (c) Steve Williams
Finally the audience got me, doing my thing about taking the sources to pieces and trying to make sense of them and how historians have used them. I overran a bit (I put in some extra slides at the last moment as I thought I'd be short). A lot of what I had to say was why Harvey's traditional interpretation has problems, so it was either a shame or a relief that he wasn't there. The following Q&A was a lively session too, which was fun & probably could have gone on for another 20 minutes, but alas we were at closing time, so we had to pack away.
The event was attended by over 60 paying customers, and nearly a third of them came from outside Northamptonshire & our normal catchment area, so we succeeded in running an event with national reach. The buzz from talking to people and from the feedback forms is that we ran an event that people enjoyed and also broke new ground for a lot of the attendees.
It wasn't just speakers either. We had some re-enactors on hand with lots of kit, the battlefield model, and as I alluded to above, a merchandise stand so you could buy our top quality, award winning, ground breaking, publications.
Phil's battlefield model, which attracted a lot of attention