The thing about CoW is that you get to meet an interesting range of people, many of whom actually know what they're talking about and aren't just repeating what they read on the Flames of War website. In this instance I was able to spare some time with Bob Cordery, author of "La Ultima Cruzada" - the wargamer's guide to the Spanish Civil War published by Partisan Press. I'd come to the end of my current supply of books on the SCW, so was looking for some tips on what to read next. Based on this conversation and some other research I came home and ordered a number of books from Amazon and Abebooks (all second hand, but not all cheap). Hopefully this post might provide some useful pointers for those stumbling across this war because of the 75th anniversary.
First up is Antony Beevor's "Battle for Spain". As regular followers will know it was Beevor's book from the early 80's that got me into my current predicament, which is namely finding out how little I know, getting increasingly annoyed about historical events I can do nothing about, and realising that I am set on the track of buying more figures than I'll ever be able to use (Don't have any Requetes yet, and they have such nice berets).
Anyhow, I wasn't going to buy BfS on the grounds that I had the other book. Bob suggested I should reconsider this as, in his view, the book was completely different. This was for two main reasons,- firstly after the first book many people wrote or contacted him with extra information (the more cruel would say "to point out his errors"). Secondly, with the fall of the Soviet Union the archives on Soviet activity in Spain became open which enabled a lot more information to be made public or verified. Both of these seemed to me to be good reasons, so I sought out an inexpensive copy through Abebooks. This has since arrived and is very pleasingly a hardback in excellent condition.
Secondly we have Hugh Thomas' seminal "Spanish Civil War". This has seen numerous editions all with amendments as Thomas' views evolve. I've not bought this book on several occasions and last year in Hay on Wye I passed up a first edition. Admittedly at that point I didn't know it was seminal. Bob didn't advise me to buy any particular edition, so I went for the Penguin paperback from 1990 with the UGT poster on the cover because it looked bright & jolly and was also inexpensive. I would quibble with the sellers description of "very good" but it is perfectly adequate to read from, although at over 1,000 pages I expect it'll fall apart readily enough.
I've then acquired a ocuple of memoirs written by some people who fought for the Fascists. Books written by International Brigaders or other volunteers fighting for the Republic are more common (George Orwell, anyone?), but I was keen to obtain something from the other side to balance my perspective.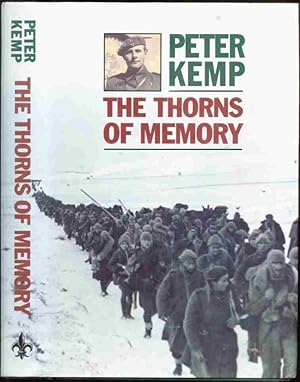 I've been looking for Peter Kemp's "Mine Were of Trouble" for a while. He fought in both Carlist units and the Spanish Foreign Legion. This book had one imprint in the 1950s and is very hard to get and prohibitively expensive. Luckily he wrote a second set of memoirs called "The Thorns of Memory" in 1990, which covers not just the SCW but also his time in the SOE and other clandestine operations since. The SCW section seems to be an updating of "MWoT" so that's off thel ist to buy. I'll write more about this book in a future post as it is very interesting, but not to be read by the unwary. It has a pretence to being "fair and balanced" and is about as "fair and balanced" as Fox News in the US. Let me just say now that he fought for Franco, was aware he was on the same side as Hitler and Mussolini and still thought that was okay. I got this second hand gain for £10+ postage, which looking at other prices quoted was a bargain. It was an ex-library copy but is in immaculate condition and the shelf label just peeled off.
Lastly in this batch we have "Brother Against Brother" by Frank Thomas, which is written by a Welshman who fought in the SFL as well. The book also includes a brief diary by another Welshman called Sid Hamm who fought as a Communist in the IBs. I came across this book by chance so I have little else to say on it at the moment. My copy looks brand new and I got it at a considerable discount to the cover price.
That's a fair bit of reading for me to catch up on over the next month or two, but I'm looking forward to some rewarding reading.
And also painting some Requetes. "Send Not To Know" still has a lot of mileage in it.